TECHNOLOGY - BUSINESS - DESIGN
I created the website createch.io following a blog (in French) that I started when I was in Paris to talk about the innovation ecosystem and new technology. To further discuss innovation, I have decided to rethink TECHNOLOGY at the intersection of BUSINESS & DESIGN as represented in the logo. @CreaTechIO is also the username of social media accounts that I have created to curate Tech News by hashtags/topics as introduced in the βIO Vision.
BLOG
Blockchain technology is one of the elements of the current Fintech paradigm that is changing the way our society defines money and organisations. Blockchain applications may not often be a revolution. Nevertheless, digital currencies have a disruptive potential as technology power based on the decentralization of trust. Taking into consideration the ethics of fintech and […]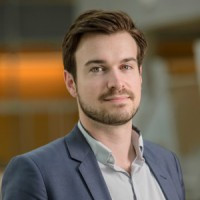 MEDERIC
I'm involved in the Hong Kong Tech scene since I have moved to the city in 2015 to support French Tech companies to do business in China. As an initiator of La French Tech Hong Kong, I was the coordinator of the community with 3 French entrepreneurs. Recently, I have contributed to the global deep tech community Hello Tomorrow.
Currently, I'm Trade and Investment Advisor Asia Pacific at Business France Hong Kong (French Trade Commission). I support French companies to access the Chinese market and Asia in collaboration with our offices in China, Taiwan, Japan, Korea and Singapore. My mission is also to attract Asian companies to do business and invest in France.
Before that, I supported members of Systematic Paris Region, the leading French digital cluster that gathers more than 500 startups and innovative companies. As SME project manager, I led dedicated programs such as EIT Digital Accelerator to foster innovation projects in partnership with R&D centres, accelerate business with large companies, access to finance and facilitate international development.