TECHNOLOGY - BUSINESS - DESIGN
I created the website createch.io following a blog (in French) that I started in Paris to discuss the innovation ecosystem and new technology. To further discuss innovation, I have decided to rethink TECHNOLOGY at the intersection of BUSINESS & DESIGN as represented in the logo.
@CreaTechIO is also the username of social media accounts created to curate Tech News by hashtags/topics introduced in the βIO Vision.
The vision for βio-inspired Innovative Organisations is to CREAte social ImpactTECH for City Sustainability, leveraging on a VALUable TECH Web (@ValuTechW), a Web of Things so-called Web 3.0 in the age of Digital Ubiquity, as well as fostering a MINDful TECH Xperience (@MindTechXp) based on cutting edge and disruptive DeepTech for a better Future Society.
CreaTech.BIO is still a project in the making. Its AICO Mission: fostering a Creative βIOEconomy by developing an Augmented Intelligence, a Creative and COllaborative Intelligence that doesn't only rely on the so-called Artificial Intelligence.
BLOG
Events switched to a virtual experience during this global crisis triggered by the Covid-19, CogX organised in June 2020 from London was no exception. CreaTech Festival gathered forces to bring Creative Industries together with CogX Festival of AI and Emerging Technology that covered 17 other topics from HealthTech to Smart Cities, FinTech to Blockchain, EdTech […]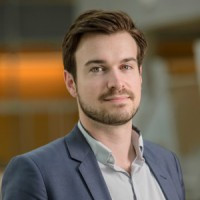 MEDERIC
Based in the UK, I'm looking forward to connecting with the London Tech Hub as well as engaging with the British innovation ecosystem.
I was involved in the Hong Kong Tech scene for 5 years since I moved to the city in 2015 to support French Tech companies to do business in China. As an initiator of La French Tech Hong Kong, I was the coordinator of the community with 3 French entrepreneurs. I also contributed to the global deep tech community Hello Tomorrow.
As a Trade and Investment Advisor Asia Pacific at Business France Hong Kong (French Trade Commission), I supported French companies to access the Chinese market and Asia in collaboration with other offices in China, India, Japan, Korea, South East Asia & Singapore. My mission was also to attract Asian companies to do business and invest in France.
Before that, I supported members of Systematic Paris Region, the leading French digital cluster that gathers more than 500 startups and innovative companies. As SME project manager, I led dedicated programs such as EIT Digital Accelerator to foster innovation projects in partnership with R&D centres, accelerate business with large companies, access to finance and facilitate international development.